Had the opportunity to spend my weekend at Lean Startup Machine Singapore, and happy to say that I LOVED IT!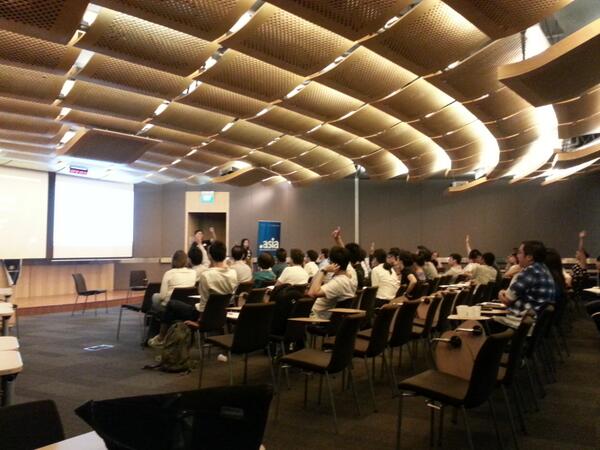 On Friday night, over 20 people pitched their ideas and formed teams of 3-5 people. Unlike Startup Weekend which is a 54-hour hackathon, you don't have to have a team of designers, developers though I do see how team dynamics do play a part in the brainstorming process as well.
So Jackie's idea caught my attention. Her pitch basically went something like "helping clueless boyfriends find better gifts for their girlfriends". So that night, even though I was only intending to participate as a volunteer, I ended up joining her team for the weekend! Our team is GiftCupid – blog more about it later.
We worked on the Javelin Board where we asked questions to help validate our ideas and tested our assumptions. So most of the time, we had to literally 'get out of the building' to conduct our research by searching for our target audience on the streets. (Talking to strangers wasn't tiring, walking around was!)
Thanks Uber for the ride! My driver, Daniel, was super friendly.
And if anyone would like to check out Uber, use 'ThanksDaniel' for free $40 credits on your first try.
Sunday mid-afternoon, the teams shared their findings from the weekend and the one with the most learnings will emerge as the winning team. Amy and her team at 'Sparksmate' won! Originally, they want to help worried parents to help find dates for their still-single child. Over the weekend, it pivoted into a social dating site that allows friends to set up dates for their single friends. Through their customer discovery, they found out that attached people actually enjoy playing matchmaker.
I know weekends are precious, but all that learning was definitely worth the time. It was intense – but at the same time, super fun. For me, the best part was learning how teams validated about their assumptions and pivoted their ideas. For my team, we actually didn't find a solution in the end because we felt that we weren't done with our testing. And that's really okay and actually better that we didn't try to force a solution just to try to 'fill up' the Javelin board. It's like that famous saying of Thomas Edison: I have not failed. I've just found 10,000 ways that won't work.
Here's a big thank you to the organisers (Amy and Bryan!), speakers, sponsors, mentors, judges and attendees who took time to participate to make this event a pleasant and successful one. Also my team whom I enjoyed working along with… and Jackie who was a great leader and kept the team focused on the task!
Lean Startup Machine is definitely useful for the aspiring entrepreneur who has an idea in mind, but isn't so sure how to start. By applying Lean Startup principles, we asked questions to help us even get the answers we need even before diving right in into working on the project. If you want to find out more, I recommend checking out if there are any LSM workshops happening near you, or grab a copy of The Lean Startup by Eric Ries!